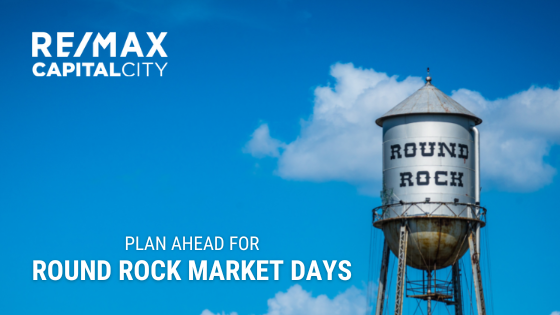 If you've spent any time around Round Rock, you've probably heard of Round Rock Market Days. This longstanding community event has become a beloved tradition. Our real estate agents have visited it many times and highly recommend it to anyone in the area. Eager to check it out yourself? Here are all the details you'll need to slot a visit into your busy schedule.  
Round Rock Market Days is a monthly community market event that brings together local vendors and residents for a day of shopping, food, and fun. It takes place on the first Saturday of every month at 221 East Main Street in Round Rock's downtown core, right across from the library and just around the corner from many of our Round Rock homes for sale. The nearby Prete Plaza is often used as a stage by musicians as part of the event. 
The market is open from 9 AM to 4 PM and is free to enter. Visitors are welcome to stay as long as they like, regardless of whether they make a purchase, but we're guessing you'll find it hard to resist picking up a few new treasures.
Food, Music, and Fundraising
One of the market's main attractions is its live musical performances. Many local musicians enjoy taking to the stage to share their talents with their community, but ordinary Round Rock residents are sometimes invited to take the mic too. Their upbeat tunes are sure to keep you tapping your toes all afternoon.
If you get hungry during your visit, consider stopping by some of the on-site food vendors for some lunch. These tents and trucks cover a wide variety of different cuisines and offer some of the best food in the Round Rock area. 
Finally, Round Rock Market Days also frequently hosts fundraisers and donation drives for important local causes. From raising money to pay for knee surgery for a local senior in need to collecting food donations for the Williamson County Children's Advocacy Center, the market's generous attendees have done a lot of good so far in 2022. 
Vendors and Crafts
Want to follow up your delicious lunch with a day of shopping? It's time to explore the market's sprawling array of vendor tents and stands. Whether you're looking for a gift for a loved one or a special treat for yourself, it's the perfect place to pick up something unique that you would never find on mass-market store shelves. 
Clothing, candles, luxury soaps, and other quality items from local companies like Triple Charm Co. and Ford & Fossil. Many local artists also sell paintings, prints, postcards, and other stunning works. Don't forget all the sweet treats, bread, and jams available from Round Rock's bakeries, confectioners, and other culinary businesses!
Many local businesses that offer classes and other services also turn up at the market to bring live demonstrations and exclusive discounts to Round Rock residents. Club Pilates Round Rock and 7 Star Martial Arts are just some of the many companies that have made an impressive showing at this community event. Be sure to check back every month to see what else might be in store.
Keep the Fun Going All Year Long
Round Rock Market Days happens every month – just think of all the shopping you could do if you lived in the area! With our help, you can make this city your home. Contact us today to book a viewing of any of our Round Rock homes.